Katie and Luke Johnstone (US)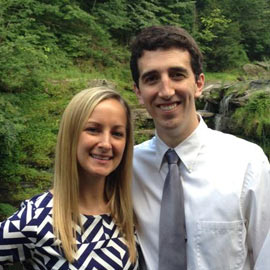 Philippines,
Quezon City
Luke: My mission is to be the material purchaser for all the centers in the foundation, for both the street children program and the children in the slum/scavenger children program. With over 750 children to provide for basic material needs, there is no shortage of work to be done! At first, I wasn't sure how I was going to like being the material purchaser because I was not much of a "shopper" back in the U.S. and it seemed that there were hundreds of markets and malls I would need to visit to compare prices and find the best deals. I have found that moving between different markets, comparing prices, and even bargaining constantly (something I used to be absolutely horrible at!) is becoming quite enjoyable and even routine for me!  After spending time in the different street children centers and getting to know the kids, it didn't take long for me to realize that my role as the material purchaser is much deeper than just "shopping" in the markets. It is working for these children who have no parent that would, for example, buy them the new pants they need when they have outgrown theirs. This is my small role in the foundation which works to be the caring parents for these children to allow them to live in a dignified way.
During my Big Night in the past few months, I've witnessed heartbreaking and dark places, but I've also seen the light of children receiving hope for their future.
Katie: As a nurse volunteer, I visit the 8 centers we have for children living in the slums. Like Luke, the work is endless. We have about 500 children in our program and one nurse! I perform assessments on all the children at least once a year, schedule medical exams, fill prescriptions, follow families with sick/malnourished children, and educate parents about different health topics. I spent an hour and a half going to work and another hour and a half coming home from work every day. I take 3 different forms of public transportation (jeepney, bus, and tricycle) to reach the urban poor communities where I work. It is quite exhausting! Most of the people I work with speak Tagalog or little English, so I am really working on learning the language.