Natalie Kean (US)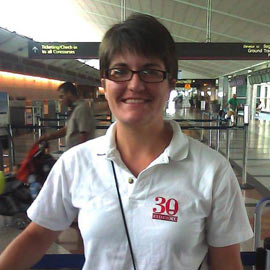 Philippines,
Manila
The LPC activities overseen by the LP4Y coaches (workshops, training, studying, meetings) take place every morning, Monday – Friday 8-12am. During the lunch break the kitchen area is shared. The afternoon is free for individual lessons (mainly English and IT), for paid work (small projects requested by one of the partners), or for launching an activity chosen by the young people. We try to reproduce the structures of a real business in terms of punctuality, dress code, behavior, use of equipment etc.
Each LPC is headed by a permanent LP4Y coordinator, advised by 2 consultants in development and management of activities, and assisted by the head of teaching, the training volunteers and the activity advisors, volunteer or salaried. Their involvement depends on the teaching plan and the fixed termly planning.
The Tempo Tendo is a Life Project Center for very young mothers, creating a handicraft activity using recycled objects from the dumpsite: plastic, cardboard etc.