Heather Quinlin (US)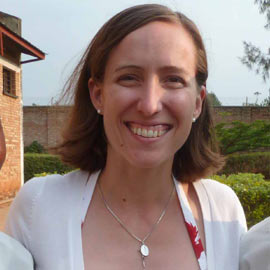 Rwanda,
Butare
"The human heart is constantly seeking good things that will make it happy; but if it seeks them from creatures, it will never be satisfied, no matter how many it acquires. If the heart seeks God alone, God will satisfy all its desires."
– St. Alphonsus Liguori
The school where I am volunteering has 540 girls and a handful of boys. The girls live on campus and the boys commute each day.
Every week I teach 14 class periods, which means I speak to every student, on whatever I want.  These are the English class periods for the students, but since they already have teachers to teach them grammar and punctuation, my job is to engage them in a discussion of my choice so they can practice speaking, listening, and critical thinking.  Since it's me, my discussions often involve faith and moral matters, such as Theology of the Body, the Bible, prayer, virtue, and the like.  The girls also ask about the US and its differences with Rwanda so I address some of that.  I've already spoken with a few classes on the meaning of marriage (in response to a question about homosexual marriage in the US) and the problem of suffering and how it is answered by God's promise to bring good out of everything.
Every week I also help teach 3 religion classes for the two oldest grades.  They have an older religious sister as a teacher and the head mistress thought it would be good to have a younger person present to be a witness of faith closer to the age of the students.
I work with the choir to teach them English songs and sing with them.
Every Wednesday I work with the arts club for an hour and a half. Previous or upcoming projects include making friendship bracelets with embroidery thread and making knot rosaries.
Perhaps most importantly, or second in importance after the discussions I lead, I act as a campus minister here.  During the girls' free or organized recreation time from 3-5 pm, I am with them in a ministry of presence.  A few times a week I eat dinner with them so I can have the time around the table to talk and get to know them better.  When a girl wants to talk or ask me a question about life, I meet with her.  I loan out the few religious books I brought (Story of a Soul, Kisses from Katie, YouCat, Our Lady of Kibeho).
I am getting an experience of Rwanda that most foreigners never get, one that is close to the local people, their lives, and their worship.
The goal of me being here is three fold:
Help the students improve their English listening and speaking skills
Draw them closer to the Lord by my witness of being a joyful Christian and the conversations we have
Love the students and give them someone they can talk to.
You can follow Heather on her blog, at RoamingHeather.blogspot.com