Beth Brown (US)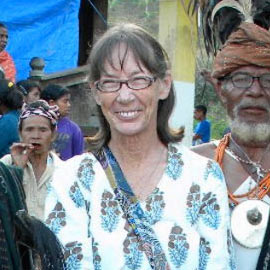 East-Timor,
Ainaro
My main responsibility was writing proposals to help Caritas Dili obtain funding for their projects. Writing successful proposals required a wealth of knowledge and a "crash course" in terms and concepts like "Capacity Assessments", "sub-sub-recipients", "Gantt Charts" and "logframes", (logistical frameworks). Our departments were widely varied, including health awareness campaigns for Tuberculosis and HIV/AIDS, agriculture, erosion control and social assistance.
While I am not a professional grant-writer, I find that putting together a proposal was a lot like working a jigsaw puzzle: all the pieces are there, I just had to make them fit in the right places. To create these proposals, I was drawing on my experience in everything from creative and journalistic writing, to Photoshop and computerized graphic design principles, to Administrative staff motivation, and all the way back to Girl Scouts Arts & Crafts. Sometimes, I felt like a contestant on the TV show, "Jeopardy":  "Alex, I'll take 'Reforestation' for $800". When I used to watch that program with my Mom, she always asked me, "How do you know all those answers?" I could not give her an answer; I think I am just partially an intellectual sponge.
I found myself deeply involved in the structure of the proposal, not just translating Tetun to English.